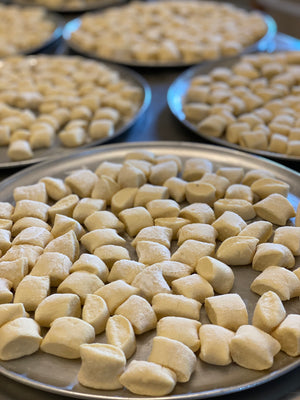 Handmade Ricotta Gnocchi
Sale price Price $27.50 Regular price Unit price / per
Handmade Ricotta Gnocchi
Restaurant quality gnocchi that melts in your mouth upon first bite. Traditional and authentic recipe, the 'less carb' pasta that is a crowd pleaser. Feel a little less guilty when having a second serve of gnocchi! Ricotta gnocchi is the perfect alternative. All handmade and made with love. Cannot compare to store bought.
Serving suggestion: 
250g per person (1kg = 4 serves) // $27.50 per kg
Cooking Instructions:
Boil from frozen 2-3mins. DO NOT DEFROST.
Storage Instructions: Keep FROZEN. Store at or below -18 degrees.